Roll over image to zoom in
Click to open expanded view
Autodesk Maya 2022 Original Version
$749.99
– 100% Genuine version.
– Included – Video Tutorials
– Runs On Windows PC and Mac
– Download product(s) from the official website
– All the available versions of All Autodesk ( 2021-2022-2023-2024)
ABOUT AUTODESK MAYA 2022
Please note that Autodesk offers only subscription-based licenses for our products. Lifetime or perpetual licenses are not legally available and are exclusively issued for student use, not for commercial purposes. if you need a Lifetime License, please get in touch with us.
Maya 2022 helps CG artists work more effectively and collaboratively. Celebrating the introduction of tools for working with the USD format, this release also contains significant updates to the popular animation, rigging, and modeling tools. With support for Python 3, the new versions of the Bifrost and MtoA extension modules have many new tools that will delight artists and technicians alike. Maya 2022 helps create limitless worlds, complex characters, and incredible effects.
WHAT'S NEW IN MAYA 2022.
You'll be more productive than ever! The update includes full USD integration, allowing artists to instantly load and edit large datasets and work with them using Maya tools. Significant changes also affected the tools for animation, rigging, and modeling.
USD is integrated into Maya.
The 3D data exchange platform Universal Scene Description (USD) improves collaboration because it is now fully integrated into Maya. You will be able to work with data directly using Maya's native tools and quickly load and edit massive datasets. Additional benefits of the update were the reliable work of references and non-destructive editing.
Python 3
Autodesk Maya 2022 on Windows and Linux operating systems now launches in Python 3 native mode. On Windows and Linux, Maya can still be run in Python 2 mode by following the instructions in the documentation.
Powerful animation tools.
Updates to the Animation Toolbox will make the animation process faster, with just a few clicks. The new Ghosting Editor shows you problem areas in your animation, which helps you determine where changes need to be made and evaluate animation between poses. Improvements have also been made to the Time Editor, including support for cached playback. Workflows are simplified and accelerated with new filters in the Graph Editor.
Modern rigging.
This release of the program introduces several procedural, topologically independent rigging tools:
Always Draw on Top attribute
Skin Binding with Proximity Wrap
Community-inspired modeling updates.
Additions to the modeling toolset are designed to give you more control over your models. Geometry generation is possible procedurally thanks to the Sweep Mesh tool. Also, using this tool, you can quickly adjust attributes such as profile shape and size. Developers listen to user feedback, so several important ones have been implemented at the request of members of the Maya community.
Comfortable start.
Maya 2022 includes several user interface improvements to get started quickly and easily customize your workspace to suit your needs.
Fast and flexible rendering with Arnold 6.2.
Arnold is a powerful rendering engine that offers fast and flexible rendering options, allowing you to create images that meet your specific needs. You can control the level of detail, the shading and lighting, and even the atmosphere in your renderings.
Incredible simulations with Bifrost.
Bifrost (Autodesk Maya's new simulation engine) is great for creating physics-based simulations. With Bifrost, you can create simulations that look and behave exactly like the real world. Try this free lesson from SimplyMaya.com, for example.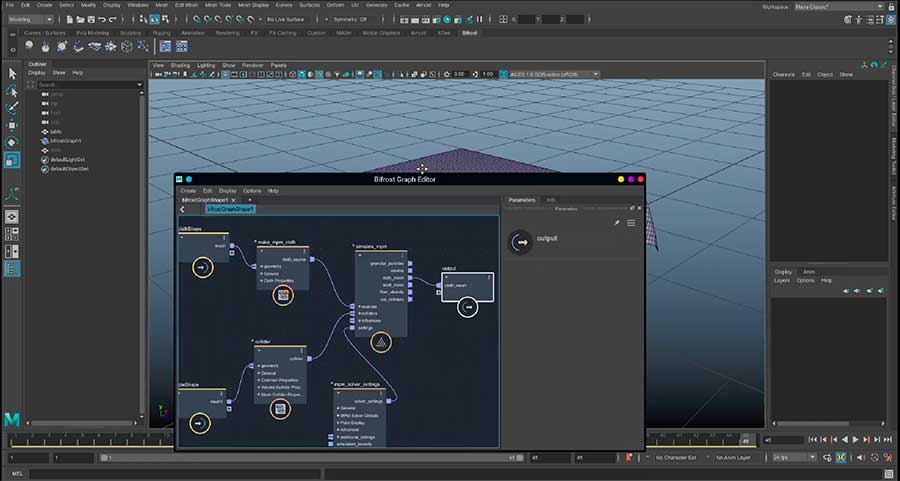 This release has become truly voluminous and rich in useful new features and improvements. Purchase Autodesk Maya 2022 directly from the Intofinity Store, and you get the most favorable terms and conditions.