Roll over image to zoom in
Click to open expanded view
Autodesk AutoCAD Mechanical 2022
$990.00
– 100% Genuine version.
– Included – Video Tutorials
– Runs On Windows PC and Mac
– Download product(s) from the official website
– All the available versions of All Autodesk ( 2021-2022-2023-2024)
ABOUT AUTODESK AUTOCAD MECHANICAL 2022
BUY AUTOCAD MECHANICAL 2022 AND IMPROVE YOUR PRODUCTIVITY!
Are you a mechanical engineer or designer who's on the lookout for software that caters to your unique requirements? Well, look no further than AutoCAD Mechanical by Autodesk! This fantastic program is tailor-made for professionals like you, and it's built on the widely used AutoCAD platform, so you know it's the real deal. With its industry-specific tools and features, AutoCAD Mechanical can streamline your design process, minimize errors, and boost your productivity like never before. Whether you work in the manufacturing, automotive, aerospace, or industrial machinery sector, this software has got you covered. By using AutoCAD Mechanical, you'll experience a remarkable improvement in the efficiency and accuracy of your mechanical drawings. So what are you waiting for? Get your hands on AutoCAD Mechanical today and take your engineering and design work to the next level!
Please note that Autodesk offers only subscription-based licenses for our products. Lifetime or perpetual licenses are not legally available and are exclusively issued for student use, not for commercial purposes. if you need a Lifetime License, please get in touch with us.
The Mechanical Toolset is Included with AutoCAD
Autodesk AutoCAD Mechanical is truly a remarkable example of the incredible evolution of CAD tools. The software offers impressive capabilities and user-friendliness that have only improved over the years. It's widely used in designing buildings, bridges, and highways, thanks to its compatibility with a wide range of file formats. With its improved drafting platform, designers can now create and develop designs with greater precision, speed, and ease. I'm ecstatic to see the significant strides Autodesk has made in advancing their software, and I am genuinely eager to see what the future holds for this innovative company. Their commitment to excellence is truly inspiring!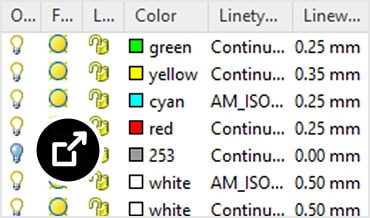 Customized layer management
Save time with commands that create mechanical layers—so you don't have to do it manually.
System Requirements for Autodesk AutoCAD Mechanical
Operating System:
Please note that operating systems older than Microsoft Windows 10, Microsoft Windows 8.1 with Update KB2919355, and Microsoft Windows 7 SP1 do not support 64-bit systems. It is important to ensure that your operating system is compatible with the 64-bit system before proceeding.
CPU:
Memory (RAM):
For optimal performance, your device should have a minimum of 8 gigabytes of RAM or more.
Graphics Card:
1 GB GPU with 29 GB/s bandwidth and DirectX 11 compatibility. Recommended: 4 GB GPU with 106 GB/s bandwidth and DirectX 11 compatibility.
Display Resolution:
The resolution is 1920 pixels by 1080 pixels, and it supports True Color.
Disk Space:
To install, you will need at least 7 gigabytes of free space.
Pointing Device:
MS-Mouse compliant device