Roll over image to zoom in
Click to open expanded view
Adobe After Effects – Digital Licence (Windows / Mac)
$199.98
– Included – Video Tutorials
– This is an Installer for Lifetime Activation
– Download at your convenience, anytime, and from anywhere
– I will provide you with a product download access link for a LIFETIME ACCESS
– Lifetime – Unlimited Installations
– One-time payment for lifelong usage
– No expiration date
Buy Adobe After Effects (Lifetime effective)
Are you a filmmaker, motion graphics designer, or visual effects artist looking to take your work to the next level? Look no further than Adobe After Effects 2022, the latest and most powerful version of the leading video editing software on the market.
With After Effects 2022, you can create stunning visual effects, motion graphics, and animations with ease. The software features a wide range of tools and features, including 2D and 3D animation, particle effects, compositing, keying, and more. It also includes advanced features for professional visual effects work, such as color correction, 3D camera tracking, motion tracking, and advanced puppet tools.
In addition, After Effects 2022 includes a range of presets, templates, and plugins to help you get started quickly and easily. And with improved performance and efficiency, enhanced 3D pipeline integration, advanced color grading tools, and a new auto-save feature, you can work faster and more efficiently than ever before.
One of the main advantages of After Effects 2022 is its compatibility with other Adobe products, such as Photoshop and Illustrator. This allows you to seamlessly integrate your work across different software applications, making your workflow more streamlined and efficient. Additionally, the software supports a wide range of file formats and codecs, making it easier to import and export projects.
Whether you're a professional or a beginner After Effects 2022 is an essential tool for creating high-quality and engaging visual content. So why wait? Get started with Adobe After Effects 2022 today and take your work to the next level!
Adobe After Effects is a powerful video editing and compositing software that comes with a range of features to help users create stunning visual effects, motion graphics, and animations. Some of the key features of After Effects include:
Advanced Roto Brush 2: This feature allows users to make more accurate selections and create better mattes for compositing. With improved edge detection and an intuitive interface, users can create detailed masks quickly and easily.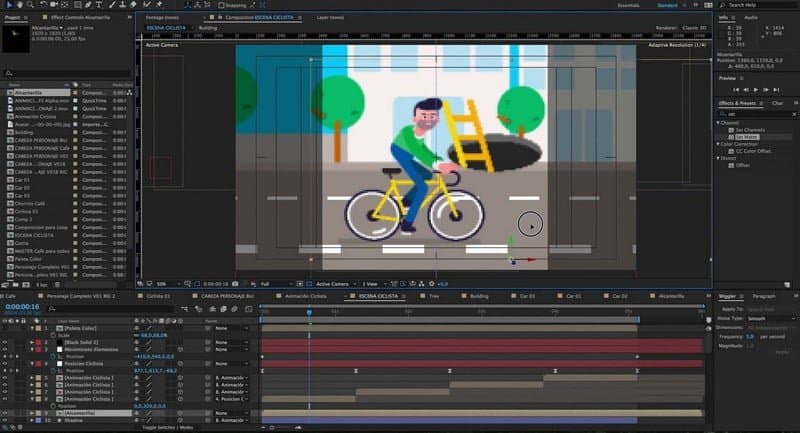 3D Transform Gizmo: The 3D Transform Gizmo provides a visual guide for positioning, rotating, and scaling layers in 3D space. It helps users to work more efficiently with 3D layers and provides a more intuitive way to manipulate 3D objects in the scene.
Motion Graphics Templates: After Effects includes a library of pre-built motion graphics templates that can be customized and saved for later use. This feature allows users to quickly create complex animations and graphics with ease.
Expression Improvements: After Effects 2021 includes several enhancements to expressions, such as the ability to edit expressions in a more intuitive way. Users can now easily adjust and modify expressions to create more complex and sophisticated animations.
Performance Enhancements: The new version of After Effects includes several performance enhancements, including faster caching and playback, improved GPU acceleration, and better handling of large projects. These improvements make it easier and faster for users to work with complex compositions and animations.
Multi-Frame Rendering: Multi-frame rendering allows users to render multiple frames simultaneously, reducing rendering time. This feature is particularly useful for users working on long or complex compositions.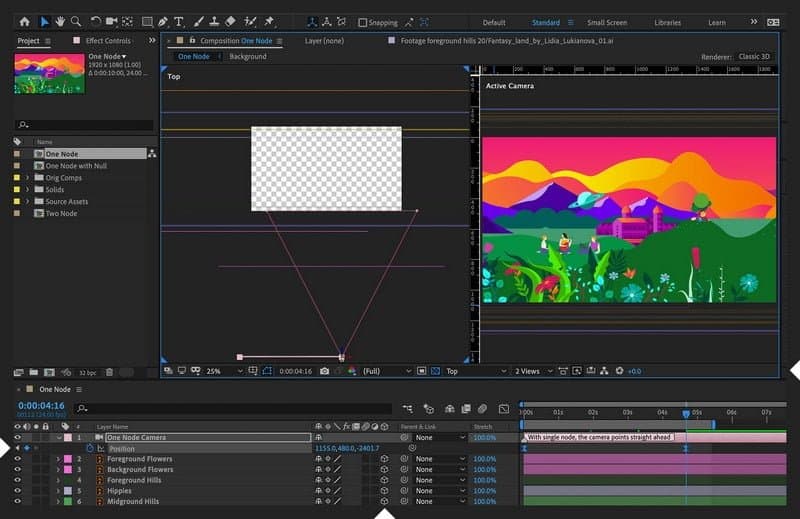 Improved Content-Aware Fill: Content-Aware Fill is now faster and more accurate, and it also includes new tools for controlling the fill region. This feature allows users to quickly and easily remove unwanted objects or elements from a scene.
Creative Cloud Libraries: After Effects now integrates with Creative Cloud Libraries, allowing users to access and share assets across applications. This feature makes it easier for users to share and collaborate on projects and assets with other members of their team.
System Requirement
Operating System: Windows 10 (64-bit) or macOS 10.15 or later

Processor: Multicore Intel processor with 64-bit support or AMD64

RAM: 16 GB (32 GB recommended)

Hard Disk Space: 5 GB of available hard-disk space for installation; additional free space required during installation (cannot install on removable flash storage devices)

Monitor Resolution: 1280×1080 display (1920×1080 or larger recommended)

GPU: 2GB of GPU VRAM